Pros for Hiring a postpartum Nanny (with meal)
Parent To Have A Peaceful And Restful Nights
Easier Transition Into Being A Parent.
Balance Nutritious Meals 3 Meals And Two Desserts To Help Mom Recover And Produce More Breast Milk.
Help Mom Body Back In Shape With Low Sodium/Sugar Meals
Guidance With Baby Care And Breast Milk Production
Full Day Attention To The Babies
Assist Mom Recover Better From Giving Birth Emotionally And Physically. Provide Past Knowledge Of Postpartum Care And Emotional Support For The Parents.
Experienced With Eczema, Colic, Jaundice, Bloating, Constipation, Circumcise And So On
Some Could Assist With Sleeping Schedule For The Baby And Help With Everything Baby Related
Assist With Massage Baby And Mom If Needed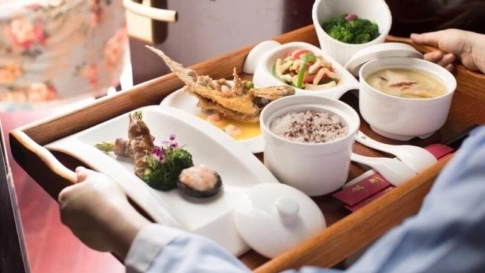 Pros for Hiring a postpartum Nanny (without meal)
Parents Have Restful Nights
Guidance With Baby Care
Whole Day Attention To The Baby
Experience With New Born Problems Such As Eczema, Colic, Jaundice, Bloating, Constipation, Circumcise And So On
Assist With Baby Sleeping Schedule
Shaping The Baby's Head
Mom Will Have More Time For Herself To Recover From Giving Birth
Help Mom And Dad Transition Into Being Parents.
Provide Emotional Support For The Parents
testimonials
What Clients Say
Hiring a right nanny for my loved children was a challenging task. I started with newspaper, online research; telephoning and interviewing candidates , but yet not able to find a nanny that I can rely on. Then, Stephanie was referred to me by one of my friends. Stephanie immediately made this task a lot easier, by referring experienced, qualified nannies. She screened and helped interview and selection of the right nanny for me. I was extremely satisfied with the nanny that she referred to our family.
Qiaoli M
Diamond Bar, CA
Stephanie really stepped up to the plate in finding a nanny for our family. After I gave birth, I had postpartum anxiety and my husband knew that I would need more help than the one nanny Stephanie had already found us, for at least a few weeks. My husband called Stephanie and she found us a night nanny within a day. And our current nanny is amazingly wonderful – she cooks (delicious Indonesian food!), cleans and helps take wonderful care of our newborn son. My husband and I definitely recommend MyAsianNanny and Stephanie!
Olivia T
Walnut, CA
I have worked with Stephanie in more than one occasion. Her service has always been quick and the candidates she referred to me are usually pretty high quality. From when I submitted the retainer fee to the actual interview was only less than a week. They don't pressure you into anyone you don't feel comfortable with. They care about their customers and will make sure that their customers are happy and satisfied with their placements. With the high workload that they have, it is impossible not to make mistake at some point, but every time they make it right for me. I have recommended this place to a few of my friends and so far it has worked out well for them as well.
Chi S
Walnut, CA
I was referred to Stephanie through a friend and I contacted her when I was looking for a sit month nanny. She helped set up an interview with 3 of them and out of all 3 we felt one of them would suit my needs the best. It turned out great and I enjoyed my sit month nanny. She was very kind, took her job seriously and truly cared about the baby. After my sit nanny I was in a rush to have Stephanie find me a new nanny and within a few days she did just that. She found me someone who I can communicate with and is a very straight froward person. Overall Stephanie is able o match your wants/needs to the nanny whom she feels would best suit your family.
Crystal C
Arcadia, CA
I have used this service to find a nanny to help me care for my children. (3 rambunctious boys!). We loved our nannies and appreciate the work Stephanie put in to help us find the perfect fit. I am thankful a service like this exists and they were able to assist even though I live just outside of the area. Will plan on using and referring to others in the future.
Luxi J
Koreatown, Los Angeles, CA
We had a good experience using the service to find a full time nanny for our 15 month son. Stephanie was very helpful in finding many candidates for us to interview and review. We had some issues with our first nanny early on when our son was younger but Stephanie worked with us to find a solution. She honored her word to us almost a year later and helped us out tremendously.
Wilson L
Pasadena, CA
I was just finalizing up on my divorce and with the new arrangements, I couldn't take care of my newborn and go to work at the same time. Thanks to Stephanie, she was able to find me a live-in nanny which took care of the infant 24/7 and still managed to cook dinner for everyone in the household. Thank you so much, Stephanie!
John L
Anaheim, CA
Ive been with the agency for awhile and they are great at finding someone to fit your need. Stephanie is great to work with and very friendly. The best nanny/household care agency better than care.com or other nanny services especially for Chinese speakers. It is much easier to find a Chinese or other Asian language speaker with her than other agencies or forums. Her agency wont let you down.
Linda W
Rowland Heights, CA